Taylor Swift, if you haven't heard about her than maybe you are living under a rock till now. Everyone knows her, you maybe love her or hate her, but you must have an opinion about her. But that doesn't mean she cares, oh don't think for a second that this new Taylor Swift cares about her image or reputation. She is no more a sweet country girl who will cry and sing teardrop on my guitar.
It was maybe 2006 or 2007 when I was sitting in a cyber café and open the website for top songs in UK. "love story" was at the first and when I saw her picture, I know you were trouble when you walked in kind of feeling I got. She was one of the; no, the most beautiful girl I have ever seen. I fell in love with her right at the moment.
After that, I downloaded every song she ever sings and put it in a loop. They were all kind of teenage girl songs, but they were heart melting. Fearless, white horse and you belong with me could make you emotional at any given day.
But wait for a minute, why do you care about it? what makes her any different than the rest of the other. She was in quite a big scandal and some people would call her names like slut and snakes. Trust me when I say this, she should be your inspiration for liberation. She inspires people and sings songs which make them cry or smile or urge them to stand with head held high.
Imagine yourself, standing on a stage, receiving an award that you are very much deserved and then second later, one of the biggest singers in the industry steal your presence and announce that she doesn't deserve that award. If it was someone else, she would probably leave everything but not Taylor. She was standing there, holding her award tight to the chest and on the brink of the tear. Maybe that's when everything changed.
"I'm sorry, the old Taylor can't come to the phone right now"
"Why?"
"Oh, 'cause she's dead!"
And that's how she announced it to the world in her songs which totally make sense, "look what you made me do".
Being the most beautiful and talented girl in the town took a toll on her. She had not one but strings of ex-boyfriends. Do you know that she has dated some of the most successful Hollywood celebrities like Zac Efron, star of the fantastic beast and where to find them Eddie Redmayne, Jake Gyllenhaal, the twilight wolf Taylor Lautner and none other than Loki Tom Hiddleston himself. These are just few who broke her heart and many more we don't know. At one time, if the chain would not have ended, she would become modern-day marline Monroe whom we all know what happened with her. Marline was known for her beauty and she fell love with a man who is not for her, ultimately she killed herself.
But Taylor was not that much weak, she built her self from the ashes of all the broken relationship she had. She turned them into a song which gets her fame and awards as well. It's like getting revenge by becoming successful.
I admire her for her creativity, her fearlessness; she accepted all her criticism and turned it into much more beauty. Even when people call her snake, in her latest tour, she put a large size snake statue on the stage and also she featured snake into her song, look what you made me do.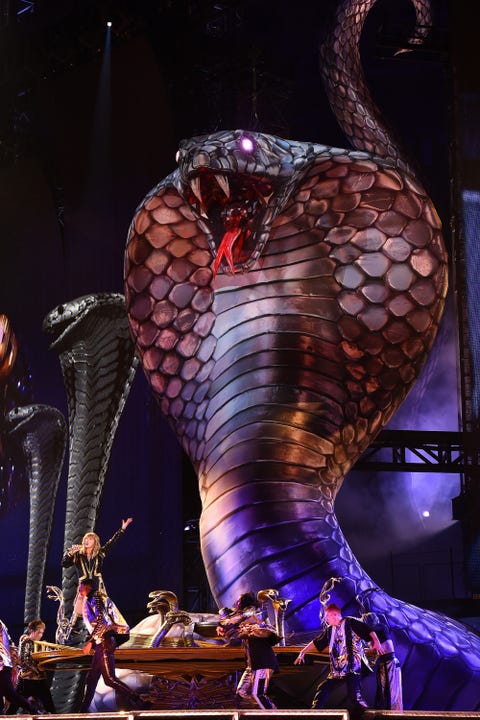 She is down to earth and donates as well. She meets with children who suffer from incurable diseases and put a smile on their faces. She is a symbol of strength and maybe role modal to every single girl out there who is suffering from heartbreak or injustice. Be like Taylor swift.
Got a long list of ex-lovers
They'll tell you I'm insane
But I've got a blank space baby
And I'll write your name – Blank space